Here are some appreciations of Jeddah's services. If you would like to add your own rave please click below:
LINDSEY & BLAKE
Choosing Jeddah to be our officiant was one of the best decisions we made during the wedding process. She really took her time to get to know and understand us. This led to a beautiful ceremony that was very true to us and our relationship. She has a very calming nature that would ease any nervous couple. She's a very sincere and loving person, and she made us feel truly special. We would recommend Jeddah to anyone.
JAQUELINE & ALEX
There are no words for how much Jeddah meant not only to our wedding day, but our entire planning process from the moment that we met her. As soon as we did, we naturally shifted our attention from the chaos of party planning to the ceremony — where it should be! Through our conversations we reflected on everything that we loved about each other as well as ourselves. And we felt supported and completely understood by her throughout the process. Jeddah helped us to craft the most meaningful, authentic, beautiful, and honest vows. Her calming energy allowed us to feel so comfortable and emotionally safe while we opened up our hearts in front of our friends and family. The combination of her attention and intuitive nature resulted in a ceremony that allowed every guest at our wedding to feel as if they were enveloped in our love….and perfectly primed for the celebration that came after it! You are the best decision we made in the entire process. My husband and I can't thank this beautiful woman enough for everything that she brought to special our day and all the days leading up to it.
JESSICA & AMOS
Jeddah was one of the best parts of our wedding. From the first meeting with her, she made my husband and I feel immediately comfortable and at ease. She is warm, understanding and spent a lot of time and effort getting to know us and learn about our families to ensure we had a ceremony that reflected our relationship. The result was a beautiful, emotional and very personal ceremony that was the highlight of the wedding day for us! We had all our family and friends coming over to us saying it was one of the best ceremonies they have seen. Jeddah truly made our day even more meaningful and special. Anyone that gets to work with her is very lucky!
REBECCA & MIKE
Jeddah is amazing. We don't have enough kind words for her and all she did for us. She was with us every step of the way in preparing for our wedding and came to know us very well through our ongoing conversations and her questionnaire. She was a guide when we needed insight while still being completely flexible to our needs and wants. On our wedding day I became increasingly nervous on the drive over to our venue. I was a giant ball of anxiety waiting there, but once Jeddah came to speak with me, all that melted away. What she crafted for us was incredibly beautiful and better than anything we had dreamed of. She was able to emphasize both the sanctity and the joyfulness of the occasion, and, best of all, she was able to pause time briefly in order to draw us into the moment, and I know we will carry that feeling within us for the rest of our lives. Everyone we talk with mentions what a magical day our wedding was and that our incredible ceremony really set the tone for the rest of the celebration—and we have Jeddah to thank for that.
ELLE & DARYL
Jeddah was perfect!! She has such a wonderful spirit. We live in Australia and we got married in New York as a destination wedding so all our closest friends and family would attend. Jeddah speaks with such kindness and love she help spread such a beautiful and intimate ceremony. Thank you so much Jeddah, such magical memories!
JACQUELINE & LUKE
Working with Jeddah to officiate our June 6th wedding was absolutely wonderful from start to finish. Her contributions, spiritual and physical presence and care made the entire experience a truly transformative and special one. We can't recommend her highly enough!
CASSIA & LINDSAY
Lindsay and I recently got married in Hudson, NY. It was such a perfect day in large part due to Jeddah. People are still complimenting us on how special the ceremony was. Jeddah so gracefully reflected our style and captured all of the love and excitement of the day. It would not have been the same without her. Jeddah, thank you so much for your guidance and all of the thought and love you put into our marriage ceremony. Anyone would be absolutely lucky to have you! Best always – Lindsay & Cassia
LAURA & WILL
Rev. Jeddah, is an amazing and lovely wedding celebrant. She made the whole process fun and interesting and brought a beautiful energy to our wedding ceremony
On the day of your wedding things are crazy and you have so many things on your mind, Jeddah has a very soothing and warm energy and makes you feel totally comfortable. She has the experience, confidence and vocal presence to takes control over the ceremony so you don't have to worry about a thing.
Many of our guests commented on the ceremony and how perfect Jeddah was, with her warm and composed energy she made the ceremony so special and unique to us as a couple. Jeddah is a joy to work with and prior to the wedding she was extremely responsive on e-mail, and made it known that she was there for us if we needed her for anything. I highly recommend Rev. Jeddah to anyone seeking a wedding celebrant in the NYC area.
NICOLE & ADAM
Oh my, were we completely certain that we had found our minister after our first meeting with Jeddah. She completely "got" us and we felt a strong connection, something that had been lacking in our meetings with many other officiants. Her words reminded us just what all of this planning was about and truly changed how we went forth from there. All 3 of us shed tears during that first meeting. We rearranged our entire timeline for the day in order to have her there with us. On the day of, she arrived early and was a source of calm for my loved ones and for Adam and I. There were tears of love and joy throughout the ceremony and much laughter. She helped us choose a beautiful water ritual, which she had actually designed herself. She was genuine, tender, poetic, calming and brought a lot of light into our lives and into our day. I truly hope our paths continue to cross and I am so glad that she was able to contribute to our day. Jeddah is a special soul who we feel very grateful to have met.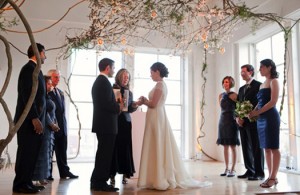 CARRIE & NUNO
Rev. Jeddah was truly a special addition to our wedding. As our officiant, her role began several months before the event; she was instrumental in helping us to examine our feelings and attitudes toward our relationship, marriage, and the wedding ceremony. Jeddah was extremely sensitive to our traditional and religious preferences, and was open to incorporating any and all ideas into the ceremony. As a result, our wedding came together in a way that was very personal and unique to us as individuals and as a family.
ANN & MOSES
It was such a pleasure working with Rev. Jeddah. My husband and I immediately felt her warmth upon meeting her for the first time. We really appreciated the time she spent meeting with us to learn about our backgrounds and what makes our relationship special. We could also immediately tell that she really enjoys what she does for a living, which was refreshing. Jeddah was able to make helpful suggestions around ways to incorporate traditions from both of our backgrounds (Jewish and Christian). The detailed information she requested from us made for a very touching, heartfelt ceremony. We are thrilled that she was able to be part of our most special day.
CHRISTA & MARK
Jeddah is an angel on earth. She is a wise soul who is passionate about her work and her clients. She was accessible to us and supportive of the kind of ceremony we wished to have. She was open to our suggestions and welcomed the collaboration on our wedding program. She has you fill out a thought-provoking, educational questionnaire to help her personalize your ceremony. Jeddah took great personal care with this information and treated us gently, lovingly, and with reverence. We cannot say enough about the connection we felt with her and our satisfaction with the beautiful way she united us. She is a highly respected professional and we just fell in love with her – our families did, too! You will have a deeply poignant and meaningful wedding with Jeddah to guide you.
CARA & MICHAEL
Michael and I always hoped that our ceremony would be meaningful and memorable, but what unfolded on our wedding day was more special than either of us could have imagined. You captured our love story so beautifully, and the way you wove it through the ceremony left our guests with a feeling of true intimacy. Months have passed since the wedding, but our friends and family can't stop talking about it. Thank you so much, Jeddah. You were kind and thoughtful from beginning to end, and you understood and supported every single one of our expectations. We are so, so happy and grateful that everything worked out so flawlessly. Some things are truly meant to be! Love, Cara and Michael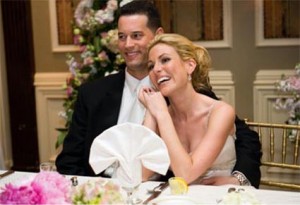 CARLI & JUSTIN
Rev. Jeddah took all the anxiety out of searching for the right person to marry us. Immediately when we first connected, I knew that I wanted her to be a part of our special day. She not only made our day the most memorable of our lives but she brought us even closer together even before the marriage begun. She guided us on reflecting on our individual thoughts, desires and ambitions for ourselves and eachother, in order to build a strong foundation for marriage. Rev. Jeddah made our day not only special for us, but for our families and friends as well. Our hope was that everyone in attendance would feel comfortable during our ceremony, not matter what their beliefs were, and Rev. Jeddah made that happen! It was wonderful to receive so many compliments and for our love to be expressed so beautifully in front of all the people who mean so much to us.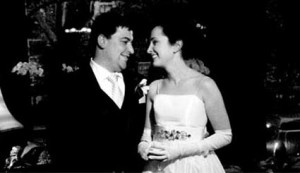 ERICA & CHAD
Dearest Rev Jeddah, We can not thank you enough for the most wonderful ceremony! I never thought that my favorite part of the evening was going to be the ceremony! What you said, the way you said it, the tempo, the feeling… it was all more than I could have ever imagined. It was perfect! You made me laugh, you made me cry, you made me realize the magnitude of the moment and helped me enjoy it at the same time. I also cannot tell you how many of our guests were just blown away by the ceremony. It was different than most were use to, and yet it felt so comfortable. Some of our married guests were jealous, wishing that their ceremonies had been so personal. That's an amazing feeling that you are able to give people! You obviously touched and impacted our lives greatly that day, but you also reached people in the crowd in a very inspiring way. I have to say, even my parents, who are quite religious, and would have rather seen us married in a church, were very touched by the ceremony. The way you give it, it doesn't seem non-religious… it just seems natural and so personal! Our wedding day was the happiest day of my life. Honestly. I never understood why people said that before, but now I do. And while I don't feel all that different than before that day, every day is still getting better and better.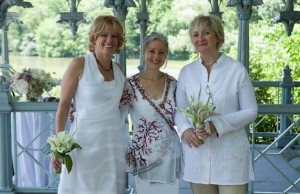 GRACE & BEATRIX
Our wonderful journey began when the universe responded by guiding us to Reverend Jeddah's website. After the first interaction, we were so excited having found the right person to marry us. During the whole process, Reverend Jeddah guided us , asked important questions regarding our relationship and managed beautifully the crafting of the ceremony flow.
She always made sure that we were addressed as individuals building the concept of our day together. It truly felt that the day was  about us.  Reverend Jeddah has a true gift that led us through this sometimes stressful process with laughter and joy.
The day of was very special and beyond what we thought it could be.  Reverend Jeddah radiated love and was so tuned in with us that the spiritual messages she delivered really were more than true and relevant, they will stay with us.
We are very humble that we have met Reverend Jeddah, a wonderful spiritually gifted human being.
Thank you!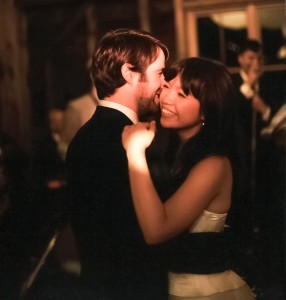 OLIVIA & GAVIN
We are forever grateful as you made our day so lovely and so loving.. we couldn't have asked for a more personal, warm, and beautiful ceremony.. It really was everything we hoped for!
We loved  the expression of appreciation for our guests and the travels they made to join us. We had a lot of loving family and friends who came distances to be with us, and it really expressed our gratitude towards them… such a wonderful personal touch for us. Gavin, myself, and all our family and friends were so heartened by our beautiful ceremony.. it was truly a blessing to have you officiate our day.. xo
ANDREA & DAN
We are so grateful that we found Jeddah to celebrate our wedding. From the very first time we met her in person, we felt that she emanated warmth and empathy and knew that we wanted those qualities to resonate in our ceremony. Jeddah was so thoughtful in her approach in getting to know us, and made sure to dig deep into our relationship and push us to do the same. We found her to be responsive, flexible, caring, generous, and calming. The latter quality is certainly something that is imperative on your wedding day, as emotions run high and lots of nervous energy and excitement builds!
Jeddah really went above and beyond when she graciously agreed to speak with one of our sick family members who otherwise wouldn't have been able to be involved in the process. We found this to be such a testament to her character and her willingness to make a connection with her couples.
In the end, Jeddah performed the most beautiful ceremony for us at the Brooklyn Botanic Gardens, weaving family traditions and nods to our heritage with hand picked readings and her own thoughtful kind words. Overall, it was a moment in time that we'll treasure forever and we can't thank Jeddah enough for orchestrating and sharing in it with us.
PHOEBE & LUKE
We approached Jeddah to officiate our wedding, and she was so wonderful through the entire process. We are Australians who travelled to NY to be married and she went above and beyond to guide us not only through the process of being married but also gave additional assistance in helping us organize the day from afar. We were not able to visit Central Park before the day and Jeddah recommended locations for a ceremony based on our brief, and gave additional assistance and advice on the process of getting married in the US and NY. The ceremony itself was a dream due to Jeddah's exceptional approach to personalizing the ceremony, using words and quotes we had provided in individually completes questionnaires and making sure the tone was just right to reflect our wishes but also the beliefs of our parents. We can't recommend Jeddah highly enough and are thrilled she was part of the most special day in our lives.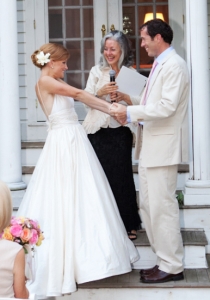 BROOKE & DAVE
Jeddah,
 you truly have a gift and are following your calling. It is a joy to watch someone who is so talented at their craft- whether it is a master carpenter, a concert pianist, a skilled surgeon. It still astonishes me how serendipitous it was to find you. Your gift provided a vehicle through which I was able to achieve exactly what I wanted, but didn't know how.
 It didn't come as a surprise to me that our guests said it was the best ceremony they had ever experienced. What left me in awe was the effect that going through the process had upon me not only as a partner but as an individual as well. When I met you, it was at the height of major changes in my professional life. Going through the process of planning the ceremony with you was incredibly therapeutic for me. I became an obstetrician for very specific reasons and I had lost a lot of "me" by the time I finally left the practice I was working at. My patience was virtually gone and I was certainly not as present as I had previously been. After my first baby delivery at the new hospital, the feedback that was given to my current practice was that I "have such an incredibly calm, caring and zen-like bedside manner. The fact that your presence in my life penetrated into the way I practice medicine is a profound statement. I am also extremely happy to tell you that our ceremony had the effect on our families that I had hoped for. On completely separate occasions his parents thanked me for loving and accepting their son.
 Jeddah, I couldn't ask for anything more. Thank you.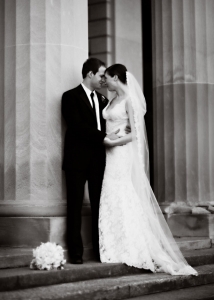 LAUREN & AARON
Aron and I had a clear idea of who would perform our wedding: Someone to not only bridge our different families and traditions but one who could also express the great fortune that we felt at being able to marry our best friend. In Reverend Jeddah we found someone who related to each of us as individuals while simultaneously showing how to merge the two into the unique foundation for a sustainable partnership. Her thoughtful pre-ceremony sessions allowed us to approach our wedding day with full confidence and transparency. Her ceremony honored both of our families, touched appropriately on the romance and playfulness of marriage and, in the end, so moved everyone in attendance. We left our ceremony feeling humbled by how perfectly the moment had been handled. Guests still compliment our ceremony for how personal and emotional it was while upholding the class and structure desired. Ultimately, Reverend Jeddah reaffirmed our hope and belief that love does not need to be bound – by church or tradition or preconceived expectation– and that, just like our wedding day, we are in control to create and relish in the adventure of what lies ahead.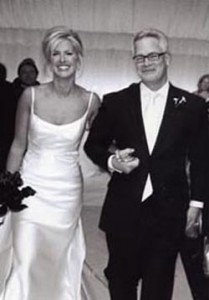 TAMI & PAUL
I cannot wait any longer to tell you that you created and performed the most beautiful, special, personal, heartfelt wedding ceremony that Paul and I could ever have hoped for. We so enjoyed every moment of the ceremony. Our guests cannot stop telling us how they have never experienced such a personal ceremony that truly reflected the bride and groom and their love for one another. I have had more than one guest tell me that they cried at our wedding and "never, ever, cry at weddings" And I have to also thank you personally for your advice prior to the ceremony about being present in the moment by feeling the floor under my shoes…it resonated, and worked. Paul and I have said to each other again and again that while the ceremony was everything we were hoping for, we were amazed it could actually have been delivered. Thank you, thank you, thank you.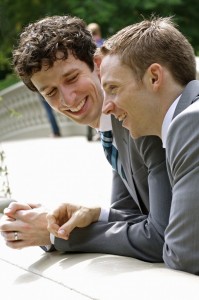 ERIC & DENNIS
When we first met with Jeddah, we knew right away that she had to be the one to officiate our ceremony. She was so warm, kind, and personable. We both felt an immediate sense of comfort and security, which made it so easy to speak openly about our relationship, our lives, our faiths, and our ideas for the ceremony. She was able to bring so much out of us, and she taught us how to speak with our hearts. After our meeting was over, it felt as though we were saying goodbye to a relative or a good friend rather than someone we just met.
Our ceremony was so personal and touching and funny and insightful. There was never an awkward moment because we knew that she was there; she was prepared and in control. She wasn't only a speaker, she was a master of the ceremony.
She did a great job of including every one of our guests in the ceremony. After it was over, people were saying things like: "Listening to her words, it was as if we were renewing our own vows" and "I wish I could have written down what she said in the ceremony because it was so thoughtful and heartfelt." Everyone was so touched and incredibly inspired. It was such a special day in our lives and one that none of us could ever forget.
Thank you so much Jeddah. We were so excited to hear your words and to be with you as you guided us through our ceremony. You did not disappoint. You went far beyond our expectations. I am so happy that you came into our lives and created this special day for us. You will always be a dear friend. Lots and Lots of Love,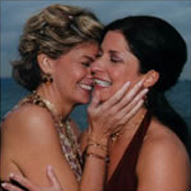 GABRIELLA & MICHELLE
We were enchanted with Reverend Jeddah from the moment we met her–we knew she was the one! Her caring smile, peaceful presence, gentle spiritual wisdom and warm sense of humor laid the foundation for what would be a rich, magical and blessed wedding day for us! We had a very specific vision of what we wanted for our ceremony and the mood we wanted to evoke for ourselves and our beloved family and friends. Jeddah honored all our ideas yet guided and embellished them to their fullest potential with her beautiful words and amazing delivery, capturing what was truly in our hearts and souls. We all cried. We all laughed. Reverend Jeddah moved all of us.
After our ceremony, when we greeted our guests, everyone commented on how it was the most meaningful, beautiful ceremony they've ever experienced! Yes, Reverend Jeddah has a unique way of listening and relating and connecting to people. Jeddah bonded us everlastingly together & and created a bond for us with her as well! When something is meant to be, it just is.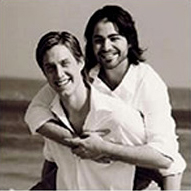 MATTHEW & DANIEL
I guess we didn't realize what a huge impact a minister could make at our wedding, until we met with Reverend Jeddah. Of course, we knew a minister's job is important but before meeting Reverend Jeddah, our expectation of what was possible for our ceremony was somewhat limited to the type of weddings we've attended for years…all very "insert name here" and not very personal. But Jeddah goes far beyond that. She helped us create something that felt unique, and extremely personal. She not only listened to our ideas and priorities but she asked us countless questions to really understand our different spiritual beliefs, our views on being together, and what it takes to make it work in the future. She presented us with many new ideas and different traditions we could use in our ceremony. More importantly, she taught us their meaning and history, so that we could chose something that had personal meaning to us. What we ended with, was an evening that showcased us, and truly honored our love and commitment to one another. We could not begin to imagine a better ceremony. We continue to hear that our ceremony was by far the most moving our guests had ever been to! Can you imagine a better compliment about your special day? She truly helped to make our wedding day the happiest day of our lives… and that is something we will carry with us forever.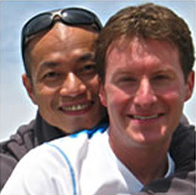 KUN-YANG LIN  & KEN METZNER
We never anticipated that we would find an officiant willing and capable of putting together elements of Judaism, Chinese tradition and Buddhist ritual in a same-sex commitment ceremony. But when we first spoke with Rev. Jeddah, we immediately knew that she was the one.  Rev. Jeddah invested the time to really get to know us and to connect with us.  She was fully engaged in co-creating with us a commitment ceremony that was one of our own design, but greatly enriched with her wisdom as well as her broad knowledge of various faiths and rituals. The abundance of tears from our community of family and guests were a tribute to Rev. Jeddah's unique and generous spirit. Rev. Jeddah created a sacred space of loving kindness in which we and our guests were able to connect with and rediscover the essence of what marriage and love mean to all people.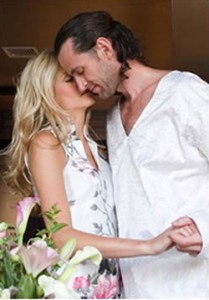 CAIO & KRISTINE
Meeting Jeddah was like a dream come true. Her amazing, giving spirit and understanding helped us shape our wedding into the perfect day. We felt truly blessed to have someone with such inner and outer beauty involved in our marriage. We could never thank Jeddah enough for such an inspired ceremony.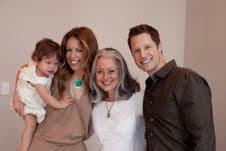 ANDI'S BABY BLESSING
We can not say enough great things about Jeddah. In general she is just a lovely person with a calming beautiful energy. Right from our first phone conversation I knew I had found the person that was going to make this day special. My husband and I are not really religious but we wanted to have spiritual blessing ceremony to welcome our daughter to the world. It's very hard to find someone that could pull this all together and portray something that is spiritual but not religious. Jeddah was amazing! We had the ceremony in our home and we got to tailor it to our needs. Jeddah has a format which makes this very easy to do. She had great ideas on how to make the day even more special. The one idea that I really loved was she told us to have a "blessing box" so all of our guests could write our daughter a special blessing, prayer, or wish for her to have when she is older. Everyone participated and loved the idea as well. We received so many compliments after the ceremony from family members. They all wanted to know where we found her! These were the same family members that I was worried about because I thought they would have been upset it was not in a church. But everyone agreed it was so much more unique and intimate this way. If you are looking for someone to hold your ceremony, whether it's marriage, blessing, etc. Look no further! – Genine